Memory Lane Friday is a time to preserve your memories for your family. All are welcome. This week's topic is "A Collection"
I had a hard time thinking of any particular collection. I had a variety of smaller collections though. Here, a guided picture tour (using google images, not my own) through 80s toys I collected:
My Little Pony
Strawberry Shortcake
Hmmm. It's funny to me how some of these toys have made a comeback.
A butterfly collection (which I saved up for from my allowance and ordered from the Sear's catalog)
Garbage Pail Kids cards. I remember laughing hilariously over these with my friends.
Baseball cards from the late 80s, which I still have. However, my younger brother stole the goods ones after I left for college.
Horse toys (Playmobile, Breyer) and horse books, particularly those by C.W. Anderson.
I also had a decent sized collection of little glass animals. My mom would buy me one each time I had to get an allergy shot. Then I had an allergic reaction to the allergy shots. So that put an end to that - but she'd still pick up a little glass animal for my collection now and then.
Want to talk about a collection you had? It's easy. Grab the code beneath the button, copy and paste it into your blog post.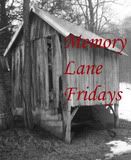 Then come back and add your link:
Next week's topic is "A Time You Were Sick"