Memory Lane Friday is a weekly blog hop. You can blog about your memories and link up, and everyone is welcome. I like to blog about my memories every week to preserve them for my family. I hope you'll join me. This week's theme is "A Hiding Place".
Being a teenager is hard. You're torn between wanting your independence yet still needing structure and guidance from your family. Friends can be brutal, or they can be endearing and supportive. It all depends on....hormones. And every year subjects in school build upon themselves, growing harder and leaving kids with more pressure of performance and...oh yeah...college. So this is kind of where I was when I hit 13, but I held the secrets of one little hiding spot in my heart. There were only five other people who knew about this little hole in the hay.
Of course my hiding spot was at the barn, Cedar Ridge, which I have blogged about on several other occassions. A large red riding facility, it housed my horse, and me - most of the time. Whenever I was free, at least. My friends and I spent every waking moment there during the summers. And one summer in the back corner of the barn, just behind the arena, we discovered a fort in the hay. The hay reached at least 20 feet high in stacked square bales of timothy. It was as wide as it was tall, so this is one massive hay structure. Hidden up against the wall was a passage. If you moved a special bale of hay, you could enter the cubby, climb the hay stairs, and ease up into the top level of hay, surrounded by hay walls. A room of dried grass.
It was a world away from the pressures of home and school. A safe world, for six girls who were looking to escape. To retreat on summer days in hot swelting hay nirvana, to share stories of horses and horse shows and dogs and Pony Club and then more horses. Whatever came to mind. Secrets and friendships all in this magical hay land. I loved it there.
As it turned out, we weren't the only ones using the secret hay room. When it was discovered, and it was found that some older teens were smoking in it, the hay fort was demolished. Terribly dangerous to smoke around hay in a barn, of course (it wasn't me, I swear!). But I hold fond memories of that hiding place and the conversations and fun held there.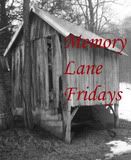 If you'd like to join in on Memory Lane Friday, you can add your website to the link below:
Please stop by and visit other links. And come back next week, the theme is Valentine's.