This is the second year for us to link up with Little Wonders Days by writing up a Summer Bucket List. You can find last year's list
HERE
. We did not check off every item on the list, but we did do the majority of them.
After seeing all the cool lists everyone else did, with cute jars and real buckets, I thought for sure that this year I would do something similar. But guess what? I've been busy. So I'm going to be lazy and just type out my list. Because of the current price of gas, our list is heavy on things that we can do at home.
1. Lots of library story hours again (last year I think we went to all but one!)
2. Participate in the library summer reading program again
3. Pierce to participate in at least one track race
4. Family camping trip
5. Set up swimming pool and continue to work on swimming skills with Pierce (and the twins!)
6. Go to the zoo
7. Ice cream and tour at the Homestead Creamery
8. Go to the water park at Green Ridge Rec Center
9. Harvest a garden!
10. Go to a free Friday at the Science Museum
11. Ride the trolley with Daddy and visit the Farmer's market
12. Make mud pies
13. Have a water balloon fight
14. Take a trip to the craft store and let each child pick out one craft kit from the $1 bin to make
15. Have our own Field Day in the horse arena
16. Play in the sprinkler
17. Go on a lightning bug hunt
18. Eat ice cream sundaes for lunch
19. Make a solar hot dog cooker, and cook lunch on it
20. Pierce - Vacation Bible School
21. Pierce - look into a week of soccer camp
22. Children's Museum at Greensboro or Lynchburg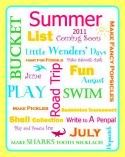 What's on your bucket list for this summer?