Memory Lane Friday is a chance to preserve your stories from your youth for your own family. Today's theme is 'Those Foods I Loved'.
My whole family knows what I'll be writing about today. Without any hesitation either. Lin Lin's macaroni and cheese.
It was creamy.
Dreamy.
Salty.
Rich.
Southern.
An underlayer of thick elbow macaroni noodles in a creamy sauce. And a topping of slices of sharp cheddar melted on top.
We've all tried to duplicate it. Alas, the recipe was lost. But I'll always be thankful for the chances I had to enjoy it. I remember at Thanksgiving dinner wishing that I didn't have to try the other dishes. Wishing I could just use up all my stomach space on mac and cheese and not waste it on inferior dishes. It was
that
good.
Sadly, none of us ever took a picture of Lin Lin's mac and cheese, but here she is in the kitchen on Thanksgiving.
Want to participate in Memory Lane Friday? It's easy! After you blog, just come add your link into Mister Linky (I seem to have forgotten my code at home on my camping trip, so I'm not going to mess with that this week - if you really want to grab the code, you can grab it from the right hand side of my blog).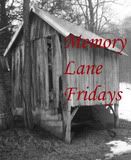 And come back next week. The topic is "A Ceremony". The possibilities are endless!