Memory Lane Friday is a time to reflect on memories from your youth. Today's topic is 'A Favorite Movie'. I had a really hard time with this topic! I didn't have any one particular favorite (at least not that I can remember) but I did have several well-cherished horse movies. So I'm going to write about those.
First off, there was The Horse in the Gray Flannel Suit. A Disney comedy, it's a really cute movie about a man who builds an aspirin sales campaign around his daughter's show jumper.
There was also Sylvester, which I probably watched hundreds of times. Starring Melissa Gilbert, it's about an orphaned Texan girl who believes in herself and her battered horse, going all the way to a National Equestrian competition.
Other really great horse movies included Wild Hearts Can't Be Broken and of course National Velvet.
And, to toss in a movie that wasn't all horsey, I just loved The Three Lives of Thomasina. Another cute, sweet classic Disney comedy.
Want to join in on Memory Lane Friday?
Grab the code from below the button and copy/paste it into your blog.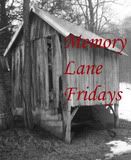 Then post your website into Mister Linky:
Be sure to come back for next week's topic, "A Time I was Scared".