Memory Lane Friday is a time to write about your memories to preserve them for your family. Each week is a different topic, but you are always welcome to write about any memory-related story you like and link up with Mister Linky. The topics are just suggestions :-)
This week's topic is Fourth of July.
When my great grandmother on my mom's side of the family passed away, an old trunk full of pictures was discovered. My grandparents told me to go through and take any pictures I liked. I didn't really know who any of the people in the pictures were (except for a few with names scrawled in pencil on the back) but I love old pictures, so I gathered a handfull to keep. One of the pictures I took was this one:
I don't know who the children are in the picture. I do believe that it is a train in the background, behind the fence. I love the display though. Were they cheering for a parade? Was it a ceremony for soldiers returning from war? Or was it an Independence Day celebration? I don't know, but it certainly looks as though they were having a grand time.
On July 4th my family would typically eat watermelon and set off a few backyard fireworks. You know the type...those cobra snake things, sparklers, etc. One year, though, my dad got something called The Screaming Bees.
Virginia has strict fireworks laws, and they can't shoot off the ground if they are used at home. In fact, only "fountain fireworks", sparklers, pharoah serpents, pinwheels and whirligigs are permitted. If you want the good stuff then you have to go to South Carolina. Anyhow, I don't know if we got a defunct killer screaming bee deal or what. But that thing shot off and the bee rockets were screaming and my dad took off running. We were all kind of stunned in the aftermath. Ah, good times.
Want to join in on Memory Lane Friday? It's easy. Copy the code beneath the button below and paste it into your blog.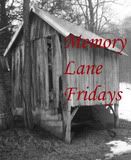 Then come back and add your website to Mister Linky:
Next week's topic is 'A Game'. Board games, yard games, computer games, a specific homecoming football game....put a name to your game memory and blog it!