Memory Lane Friday is a weekly opportunity to blog about your memories, to preserve them for your family. Each week is a different theme, but you are welcome to blog about any memory you'd like and link up. This week's theme is 'A Tourist Trap'.
When I was 9 years old, my Dad came home from work one Friday and told us to pack our bags! He was surprising us with a little road trip. It was so exciting as we tossed our cold weather gear into duffles and piled into the car.
We didn't even know where we were going (my dad wouldn't tell us), but we knew we'd have some fun.
We ended up in Gatlinburg.
Gatlinburg is a haven in the Great Smokies.
It's a gorgeous piece of the mountains, but man is it ever a tourist trap.
Stuffed full of quaint shops carrying homemade fudge, kettle corn, Native American wares, you will also find a plethora of shops carrying gaudy t-shirts, hats, and other appealing junk.
Note the big bag I had in my hand. Wish I could remember what "treasure" I had bought with my allowance.
One thing I remember clearly about the trip was driving on some mountainous road, my brother Taylor perpetually carsick as usual, and being caught in a traffic jam. On the side of a mountain! Turns out the traffic jam was due to a black bear on the side of the road. All these tourists were stopped and tossing marshmallows and crackers out their car windows for the bear to eat.
HELLO! Yeah, tourists can be idiots.
I think we had some pictures of the bear as we crawled by safely in our car in the traffic, but I'm not sure what happened to those pictures.
Want to participate in Memory Lane Friday? It's easy. Just grab the code below the button and copy/paste it into your blog.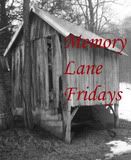 Then come back and add your blog address to Mister Linky:
Next week's topic is "That was a first". Write about your first day of school, the first time you rode a bike, the first time you failed a test or your first roller coaster ride. There are so many good stories that can come from this topic!
Note: Not sure what is wrong with Mister Linky this time. Just tried adding a new Mister Linky in, and hopefully that'll solve the issue. I may have to switch to a different link up if this continues happening!