This is a Sponsored post written by me on behalf of NECTRESSE™Sweetener for SocialSpark. All opinions are 100% mine.
Do you know I got in trouble last week? It's true. Pierce was very upset that I hadn't made scones for his breakfast one morning! The boy is obsessed. I've been trying out different variations of scones for him, and so far he seems to love them all.
Since I don't like him to start off the day with a lot of sugar, I decided to create a recipe using
NECTRESSE™Sweetener
. Have you heard of it? Nectresse is the only 100% natural sweetener that's made from fruit - it comes from the monk fruit plant. I thought I would get extra creative and try to come up with a recipe for chocolate scones using this sweetener - I've never made chocolate scones before but in theory they sound tasty.
Ingredients:
2 1/4 cups all-purpose baking mix
1/4 cup cocoa
1 5 oz. package cherry craisins
1/3 cup milk
10 packets Nectresse Sweetener (about 2 tbsp.)
2 tbsp butter, melted
1 egg
Preheat oven to 425*. In large bowl mix baking mix, cocoa, craisins, milk, Nectresse, butter, and sugar. Mix well until all ingredients are moistened and a soft dough forms. Knead dough 8-10 times. Roll dough out into a 9 inch circle about 1/2 inch thick. Cut into 8 wedges and place on baking sheet. Bake 12-13 minutes. Serve warm with butter.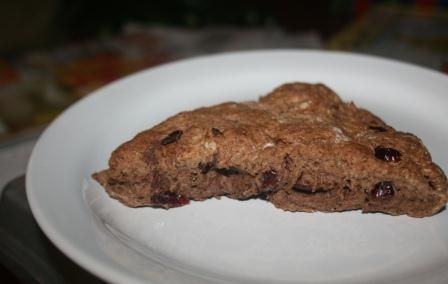 I made these in the evening, so they'd be ready the next morning, but my boys were insistent on diving right in. They loved these scones! It's an easy breakfast for them to grab and go, and I love that it isn't all sugary.
You can try a
FREE sample of NECTRESSE™Sweetener
- check it out for yourself! Also, if you'd like to learn more, Lisa Ling is the spokesperson - she has a family history of diabetes and tries to be careful about her sugar intake. Check out her video testimonial here -