I hope some others will join in, because this is going to be fun. Don't be intimidated...it's easier to do than you think (trust me, if I can figure this out,
anyone
can). Today, the assignment is to write about a memory...any memory that you want!
First, you'll want to grab my button for your blog post. You do this by copying the code that is in the box below the button.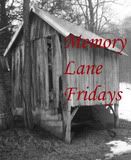 Then paste this code into your blog post. When you post it will show up as the button. After you write your blog, you will come back here and enter your info into Mr. Linky with a direct link to the actual post you've written. Then check out the 3 blogs above yours and leave them a comment (always fun to get to know other bloggers) if you're first, just come back a little later in the day to share some comment love. That's it!
Now for my posting. My memory is from the Mill Mountain Zoo. Located on the top of Mill Mountain, under the shadow of the famed star, is this little zoo. It's been there since the 1950s. Nothing was quite as exciting as a kid as a trip to the zoo. Even this tiny little zoo.
Hey Mom, what happened to my pants in this picture? It looks like you forgot to finish getting me dressed. This picture is from (gulp) 1977. Note the little horse figure in my hand. I was born wanting to ride horses.
The entrance to Mill Mountain children's zoo used to be this boot you walked through. It felt absolutely magical paying at the window and walking through the tunnel. Like going into a new land full of mystery. I was so sad when I returned to the zoo as an adult only to find that the boot was gone.
BRING BACK THE BOOT!
This picture is from 1978. Must've been a blustery day, I was geared up in raingear in this picture. AT LEAST I WASN'T JUST IN A DIAPER.
Last picture is from 1979. What I wouldn't give to have those golden curls back.
We just paid for a family membership at the zoo. I can't wait to take the boys when the weather warms up. I hope it'll bring them as much happiness as it did me.
Okay, now for next week's assignment. Break out the scanners! Next Friday will be a memory of the family pet. Or pets. Or if you didn't have a pet, a memory of how mean your parents were. Oh come on, at least you must've had some Sea Monkeys at one time.