I have a lot of things to choose from. We're a sentimental family that believes in handing things down. I have furniture, clothes, jewelry, pictures, quilts and more. So it was hard to choose an item. Eventually, I decided to write about one item from each side of the family.
From my Dad's side of the family, I chose a heart shaped diamond necklace. Not because it is diamonds. Or even because it is jewelry (I rarely wear jewelry other than my wedding rings and plain small hoop earrings). The reason I love it is because Lin Lin and Chief (my grandparents) came up to visit when we were living in Manassas, just before my junior prom, to give this to me in person. This was a piece of jewelry that Chief had given to Lin Lin years before as a gift. And they wanted to pass it on to me so I'd have something to wear at the prom. And I've worn it since, in weddings and a few other formal events here and there. So here's a pic of me with the necklace, at sweet 16, just before prom:
I love how simple and understated this necklace is, for being diamonds.
And go ahead and say it. You know you're just wicked jealous over my huge POOFY peach sleeves.
From my Mom's side of the family, I chose something that is special simply because I admired it so much as a child. When my great grandmother, Granny Besse, passed a few years ago, I was asked if there was anything particular I wanted. I said, yes! I wanted the bee sugar bowl that sat on the kitchen table by the window. I loved to look at it when I sat at the table. At first, I was disappointed because it couldn't be located. But finally it was found. The spoon/stinger is missing, and the wings have been glued back together, but I don't mind a bit. I love it exactly as is, because it brings back warm memories of Granny Besse and her kitchen.
Want to participate in Memory Lane Friday? It's easy! Just grab the code listed below the button. Copy and paste it into your own blog.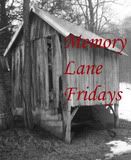 Then come back and add your website to Mister Linky:
Be sure to visit others and leave them some comments! And come back next week...the theme is A Favorite Book.