It's Memory Lane Friday, your chance to blog about your memories to save them for your family. Today, the topic is 'Pictures that tell a story'.
So today I'm going to discuss my brother, Taylor, who doesn't read my blog so surely he won't care. ;-)
See, I'm worried about Taylor.
The thing is, he is a total cat lover.
His very existence is all about cats.
There was a time when he wouldn't even think of driving his crane without taking a cat along for the ride.
A time when a trip out to the barn to check the tobacco and use the rope swing wouldn't even be considered without a cat in hand.
A time when you didn't plow without a cat in your lap.
A time when cats were toted like hand bags. You just didn't leave home without one.
This particular cat hold not recommended. Carry your cats kindly folks.
Sadly, Taylor has forgotten his cat-loving roots. He has been without a furry friend now for many, many years. I'm thinking about giving the SPCA his home number. Someone's gotta help the guy out.
Please offer suggestions for how to help my brother reclaim his inner cat lover in the comments.
He needs an intervention pronto!!
Want to participate in Memory Lane Friday? Simple! Grab the code below the button and copy/paste it into your blog.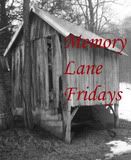 Then come back and add your website into McKLinky. How did everyone like this linky last week? All go smoothly?
Next week's topic is "Bad Hair Day". That should be a fun one!