This is a Sponsored post written by me on behalf of
éclos Skin Care
for
SocialSpark
. All opinions are 100% mine.
I'm in my upper 30s now and it seems like I see the effects of aging on my skin more dramatically each year. As a runner, I'm going to be prone to more wrinkles than the average person, simply because of the exposure to the elements. Of course, in my mind, the benefits of running certainly outweigh the wrinkles, but I was interested in trying the
éclos Skin Care
program to see if it would help.
Eclos features apple stem cells extracted from a rare Swiss apple that have been shown to stimulate skin stem cells which encourages skin to behave younger. Plant extracts, vitamins, and antioxidants help minimize fine lines, wrinkles, and tired skin.
My kit included Facial Cleanser Skin Prep, Skin Renewal Clay Mask, Cellular Activator Skin Serum, Moisture Therapy Regenerative Cream,
Instant Radiance Facial Scrub, Restorative Eye Cream, and a terry cloth head band. This is a lot more product than I am used to using on my skin, but it was actually kind of nice to feel pampered. I started with the facial cleanser skin prep, and I loved how sudsy it was. My skin felt clean afterwards. I used to use clay masks in college frequently, but it had been years since I'd tried one (let's face it - having kids doesn't leave you with a lot of spare time) and I also enjoyed using the mask. The scrub was salty and warm to the touch, and after the combination of these 3 products my skin felt very clean. Then it was time for the moisturizers. I don't use a lot of scented products, so it took a little time to adjust to the scent, but it wasn't unpleasant. I liked the 3 moisturizing creams and my skin felt good afterwards.
So as a disclaimer, I have to tell you that I cannot use moisturizers on my forehead. I just can't do it - I break out every single time. So I had to decide what to do. Use them on the forehead so I could really review them and most likely breakout? Or not? I decided to go ahead and use them, with the knowledge that there has never been a moisturizer I can use on my forehead. So please don't blame the product for the pimples you will see - it happens to me no matter which type of moisturizer I try, and it definitely could've been a lot worse!
The picture on the left is the before pic, the picture on the right is the after (taken 8 days after regular use, 2x a day). It's hard to see in the photos, but I did notice a reduction in the lines around my eyes, and I also think there was some slight fading in the age spots on my right cheek.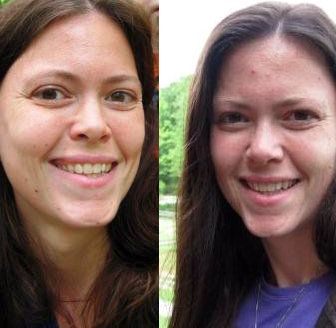 Overall, I liked all of the products and would definitely continue to use them (just not the moisturizers on my forehead!). I think my favorites were the skin cleanser and the facial scrub. If I had one suggestion for Eclos, I'd love to see them add SPF to their moisturizers!
So readers, are you interested in winning an Eclos Skin Care Program to try? I have one set to giveaway to a lucky person! One winner will win the following: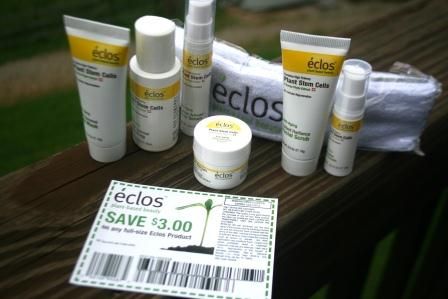 To enter, leave a comment on this post telling me which product you are most excited to try. For an extra entry, 'like' Two Bears Farm on Facebook (leave a second comment tell me you have done so). Winner will be chosen by Random.org. Giveaway ends 5/25 and winner must respond within 48 hours!
This giveaway is now CLOSED. Thank you for the entries! The winner is #49, Madeline Brubaker.